Really starting to enjoy the hobby again. After I moved late last year, lots of what I had died. Some has still yet recovered. In the last 6 months I have done little more then change filter floss, add water and change 10 gallon every 2-3 weeks.
I got some better timers for my lights.
Finally got the setup finalized. I feel like I can quit tinkering for a few months while I plan the next butchering of the corals.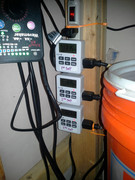 I changed the last set of bulbs, which were 50/50 actinic/6.7k and removed the daylight. I had a 6 month old "Blue actinic", which is certainly different then simply "True actinic" by the same manufacturer.
When all lights are on, it looks great. It starts out yellow in the AM, and slowly changes to a more blue by end of the day. Heading into night time there is 3 hours of very intense blue. I don't know that I like it, and may get a coral blue bulb.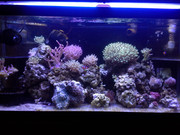 Last edited: