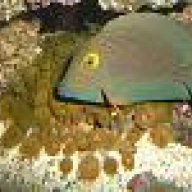 Loading...

Loading...

About

Interact

Signature

:snshne:

Rebekah

:snshne:

Member of:
Snails Are Stupid Society 90 Gallon Display w/ 2-3" LS & 100-120 lbs. LR.
20 Gal sump w/fuge that has 4" sand, LR and rubble, and Chaeto.
CUC - Lots of assorted snails, 3 conchs, Serpent Starfish, Hermit Crabs, Skunk Cleaner Shrimp, 2 Sand Sifting Starfish (I think that's it).
Fish - Bi-Color Blenny, Orange Spotted Prawn Goby, Scooter Blenny, Clarkii Clownfish, Yellow Watchman Goby, Fiji Devil Damsel, Tomini Tang, Sailfin Tang, Lawnmower Blenny, and Pink Skunk Clown.
Corals/inverts - Pink Branching Hammer Coral, Green Branching Hammer Coral, Torch Coral, Frogspawn, Bubble Coral, Neon Green Fungia, Green Star Polyps, Cup Mushroom, Green Candy Cane, Kenya Tree, Pom Pom Xenia, Toadstool Leather, Finger Leather, Devil's Hand Leather, LOTS of shrooms (red, green, blue), Orange Sponge, Green Monti Plate, Brown Gorgonian, Blundell Buttons, Flower Pot, Zoanthids, Palys, Green BTA

Loading...